A felt pear was one of the first projects I attempted after I transitioned from recycled plastic eco-felt to wool blend felt. And what a difference! The countless shades available in wool felt made it easy to choose the perfect pear color and the ease of stitching this project had me sold on using wool in my felt food projects from that point on. Using a wool blend felt in "Pistachio Green" transformed this pear from ordinary to elegant. Wool felt holds stitches better than eco felt, which can degrade quickly if played with aggressively or if the stitching constructing isn't placed far from the edge of the felt sheet.
DOWNLOAD OUR FREE FELT PEAR TEMPLATE
This pear requires just a simple process of cutting 6 of the pattern and then carefully stitching each together to form a pear, turning inside out, and stuffing.
The stem is my favorite part of this fruit, it's non-uniform curve helps it look a little more natural- like a real pear.
Products linked below have been researched and tested on this project. As an amazon associate, we earn from qualifying purchases.
To create a stem like this pear, roll the stem template in your fingers so that it's almost a tube, but slightly enlarged on one end- like a very moderate cone-type shape. Begin stitching the stem closed starting on the small end and use the security added by the stitches to adjust the degree of spread as you stitch towards the top of the stem.
To keep the stem upright and 3-dimensional, you can stuff it with a few extra bits of felt.
TIP: place a pipecleaner in the stem to create a bendable organic-looking fruit stem.
Or, for a more interactive toy, take a pipe cleaner, cut to double the length of the stem, tri-fold the pipe cleaner back in over itself (to keep the sharp little pipe cleaner core wires from poking out of the toy). A pipe cleaner core stuffed inside your stem will make it possible to create a crooked stem- just like nature often does.
Once stuffed with either felt or pipe cleaner, cut a tiny circle about the size of the opening and use a running stitch around the edge to place the little "cap" over the open end of the stem, to hide the stuffing.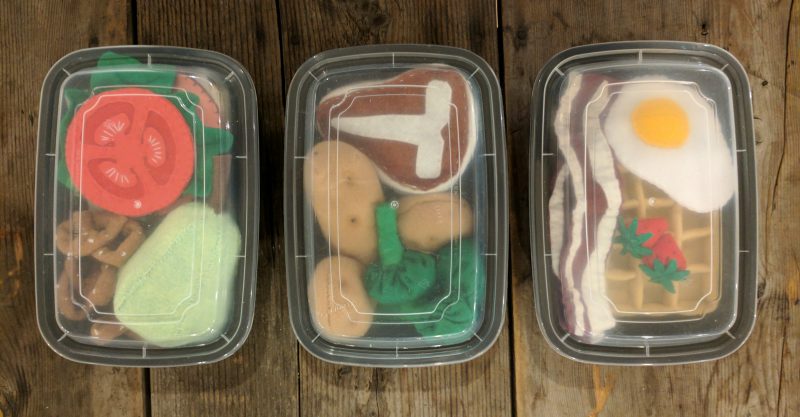 Find more felt food patterns and tutorials via my guide to making felt food toys.