In the article below, you'll find my original instructions for how to make a horse shaped wreath- plus new resources updated in 2021 to include a video tutorial, free PDF pattern download, and updated instructions.
When I originally made these horse head shaped wreaths, there weren't how to videos, tutorials, instructions, or patterns for making a horse wreath, but- as I love to do- I worked with it till I figured it out-and I created these instructions below in January of 2014- which have since spread far and wide.
Keep reading for instructions build your horse head shaped wreath, or check out our related articles on making a wreath out an old horse harness collar, decorating a chicken coop for Christmas, making decorations with old horse halters, or decorating your home for an equestrian Christmas.
One constant in my outdoor Christmas decorating plan is wreaths on the front gates. Since many of my neighbors know Hawk Hill for the pony that grazes in the front lawn all summer, one year I decided to make wreaths with an equestrian theme.
Most people see our gate decor from 45mph, so I knew I needed to go big! I had no luck finding instructions for constructing this kind of wreath, so I decided to post instructions for those who might be curious in the future. These instructions should work for any sort of shape- It would be fun to see the same style wreath done in other interest-specific shapes.

The following section may contain affiliate links. As an Amazon Associate, we earn from qualifying purchases.
Update 2021: In response to so many requests to buy my wreaths, a local small business is making these wreaths to sell. Order yours now or use these instructions to create your own!
Materials you'll need for your Horse Wreath:
EITHER a precut horse head wreath form, OR these
Supplies to make your own wreath form:
1. Chicken wire, hardware cloth, or other flexible wire mesh
2. Wire cutters or Tin Snips
3. Horse Head Pattern to use as a template (see below for a free downloadable template)
Supplies needed for Wreath Construction:
1. Coated Green Twist-Tie Wire – You can make your own with floral wire but twisting tiny uncoated wire is frustratingly fiddly and will leave your fingers mangled after a few dozen, so get the coated wire or pick up a pack of Amazon's Garland Twist Ties to make this project even easier.
3. Horse halter (optional, front-door sized wreaths will need a foal or pony size halter)
4. Green floral wire (for shaping bushy greenery into defined ears).
2. Evergreen garland – In 2014 & 2015, I made and sold a few hundred of these wreaths(!), and my best results came from using a combination of high-end faux pine greenery with cheap garland as a filler. The cheap garland adds a nice bulk while the nicer stuff gives the finished wreath an expensive look.
VERY IMPORTANT NOTE:
Fluff your greenery before starting, so your wreath will look full and natural. To fluff garland, begin at one end, grasp each wire one by one and bend back out from the central core at a 60-90 degree angle. With fluffed greenery, you'll be able to use less materials and still create a wreath with a full look. Just trust me, it's worth the extra step!
Wreath Making Tools Needed:
1. Thick work gloves (making 100's of these wreaths is when I discovered and fell in love with Simply MUD work gloves, which protect without removing my ability to feel my way around for wires)
2. Pliers
3. Sharp scissors (to cut garland)
Supplies for Final Touches:
1. Red Velvet Ribbon
2. Premade Red Rosette Horse Show Ribbon
Download My Free Horse Wreath Template:
Grab the simple 8.5×11 if you are comfortable enlarging, or purchase the poster-sized template (tiled and in light-grey, to save ink) which you can tape together to create a wreath-sized template.
INSTRUCTIONS TO MAKE YOUR HORSE HEAD WREATH:
INSTRUCTIONS TO MAKE YOUR HORSE HEAD WREATH:
Time required: 45 minutes
Print or Draw a Template
Download my free PDF template above and adjust size as needed. Find or make the outline you'd like to use. I spent most of Junior High practicing my skills at doodling horses, so I just laid out a horse halter to provide proportions and sketched in the shape of the head.
(Note that if you want your horse wreath to be standard front-door sized AND have a real halter on, like mine, you'll need to base your measurements on a foal or pony-sized halter instead of a horse size). I had so many requests I actually located precut forms for sale, so if you want to skip this step, grab a horse head wreath frame by clicking here.
Fold Wire Mesh into Horse Head Shape
Lay out a panel of wire mesh over your outline. Wearing work gloves to protect your hands, begin folding the edges inward, conforming to the shape of your outline. You'll have to cut a bit to make the wire fit. To form the sharp corner at the throat, (for non-horsefolks: it's called the "throatlatch") make a cut straight up from directly underneath that point and fold each side up to reinforce the chin and neck.
Modeling with chicken wire requires a bit of rough handling, so don't be gentle with it! You may need to add pieces or layers to get a full, rigid head. When you are happy with your shape, smash it flat.
Aquire Greenery Garland or Fresh Evergreen Boughs
(looking like a bag lady with the spoils of your Black Friday shopping, like me, is optional!)
I mix two kinds of garland for these wreaths: Cheap basic garland purchased in bulk for filler and more authentic faux evergreen garland to make the wreath look at first glance like I used real evergreen boughs.
Add Garland to Create the Horse Wreath
Lay out your garland on the wire frame, and double it back and forth to cover the frame, securing the garland every 6-12 inches. Don't try to make your garland go farther– a fuller look comes from packing the greenery pretty densely.
Fill Wreath Frame and Fluff Garland

The contours of your design may be different than mine, but this is the actual shape the garland took as my horse head wreath came together:
Secure Garland with Wire or Garland Ties
Use the folded wire pins or garland ties to anchor the greenery to your mesh frame. Start with a few very spaced out wire ties to help get the greenery under control and the end product easier to visualize, then keep adding wire ties until the greenery is completely secure and cannot be shaken loose. Continue until your frame is covered and your wreath's shape complete.
Cut off any excess garland, then cut those pieces into 4″ to 6″ lengths. Use these short bits to add fullness anywhere the wreath looks sparse.
Wire twisted in this configuration will solidly anchor your greenery.
"Groom" Your Horse Wreath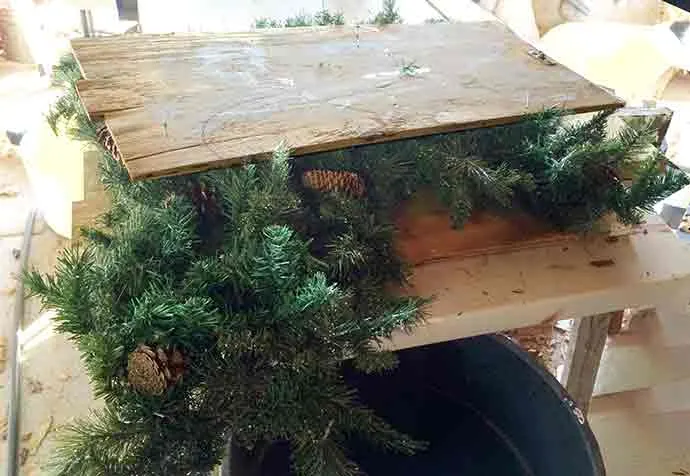 "Grooming" your horse wreath: you may find that your horse head looks a bit untidy and un-horse-like when done. Don't worry! With the garland well anchored at many points, you can now fold, bend, and even snip portions of greenery to clean up your horse head shape.
Tip: For the ears and any fine points of your design: green floral wire can help your ears go from bushy to neat: simply grasp the ear in a fist, forcing the sprigs to face one direction, and spiral wrap floral wire down the length. The green floral wire will disappear against the green branches but leave a distinct and neat edge.
When I was finished, my wreath seemed too bushy- smashing under a board flattened and neatened the overall appearance.
Decorate your Wreath
I really think these wreaths look better with horse halters on them! You can decorate them with old halters like mine, pick up a few cheap red halters, make your own with ribbon, or inexpensively build a "halter" using real halter hardware from LuckyPony.com. Most recently, we've started displaying ours with bright red rosette ribbons, for an extra-horsey version of a holiday bow. Pick up the rosettes here.
Add a red horse show ribbon for holiday charm and equestrian authenticity. This entire project from sketch to final hanging took me about 45 minutes for my first wreath, and about a half-hour for my second- an outstanding value for very large wreaths that should last several years.
My favorite part about these shaped wreaths is that they are so unique! In a world where most Christmas decorations come from big box stores that sell identical items by the hundreds-of-thousands, it's fun to have decorations that are totally unique to you!
For a reference of how the backside of this wreath should look, here's a shot of the back of one of mine:

It's been fun to see this post travel far and wide each Christmas since I originally made and posted these in 2013! So many of you have provided feedback and thank you's, and I read and appreciate each one! If you take-on this project this year, please share a photo in the comments- I'd love to see your results!

Related Equestrian DIY Projects:
Styling an equestrian Christmas
How to DIY your own Custom Shape Wreath Forms
At first, creating an evergreen wreath from scratch can feel intimidating, and you may be tempted to purchase a wreath frame. Wreath frames can be a time-saving shortcut, but sometimes cost as much as a finished wreath! By making your own wreath frame, you can create a custom wreath in a completely unique size and shape.
Back in the fall of 2013, Hawk Hill had large but modest gates across the driveway at the front of the property. At the time, I kept these gates closed most of the time, while I let our pony, Deb, wander and mow the property to earn her keep. As a century-farm turned suburban relic as the cities on either side of the property grew and merged, suburban neighbors loved my horse, and it wasn't unusual to see Deb hanging out along the front gates interacting with people walking by.
That fall, I decided to celebrate the property's most popular feature- our horse- by making two horse wreaths.
Since creating this horse wreath in 2013, I've seen versions of evergreen holiday wreaths in sports and dog breed shapes– telling me that people are getting creative and making their own wreath frames. The above instructions outline how I made custom wreath frames for my original front gate horse wreaths back in 2013.
After I posted this tutorial in January 2014, by the next holiday season that tutorial blog post had gone viral- modestly- with hundreds of hits coming in from Pinterest every day. As a tack store owner at the time (FYI: a tack store is basically an "equestrian pet supply store"), I couldn't skip the opportunity to start making and selling both horse wreaths and horse holiday wreath forms to sell in my shop and on my website.
The next two years (until I sold my tack store in mid-2015), I would start making horse wreaths and horse wreath forms each October, and by mid-November my hands would be raw from garland wire twisting. When I made shaped wreath forms to sell I did so by using heavy gauge hardware cloth (the same mesh wire often used in small animal cages).
To make my wreath forms I followed the following steps:
Design a custom shape (refer to how I created the shape of the horse head above) and draw or transfer it on to your working surface. In my case, I used heavy magic marker to draw the horse head directly on my countertop-height plastic folding table. (If you want to protect your work surface, put down sticky contact paper first, and draw the pattern on it)
Next, I'd unroll my hardware cloth and give it a little bit of a counter bend on the side of the table. This helps prevent it from curling back up into the role that its ships in.
Working swiftly, I placed my hardware cloth over the shape drawn on my table, and use a big chunky magic marker to "draw" the design on my wire. I found that regular sharpies were not robust enough to make a mark easily visible, so I switched to using Chisel Tip magnum sharpies, which left a very clear mark on the silver metal wire mesh.
Once I had transferred my pattern to the fencing material, it was time to cut out my wreath form. I cut the first several dozen or so using simple tin snips– which is basically a type of scissors for metal and are the tool I recommend if you only need to cut a few of these wreath forms. However, with orders for more wreath forms pouring in and my hands aching from cutting out horse wreath forms by hand, I had to search out a better option.
That's when I found out about electric tin snips. I had some expedited to me and they immediately upped my productivity by double. But then, to make things even easier, I tried clamping my electric tin snips to a workbench. That, my friends, was magic! If for any reason you find yourself working on a project where you have to cut massive amounts of fencing material, electric snips affixed to a sturdy surface (so you can manipulate the material rather than the cutting gun) is the way to go!
After my wreath forms were cut out of the fencing material and I had a horse head shape of mesh to ship to someone to build a wreath with, there was just one step left: preventing cuts from the now sharp and exposed wire edges of the metal material, Initially, I tried just folding over the edges to create a blunt outer rim. This worked well but took forever, so back to the drawing board I went.
After some experimentation – and even shipping a few finished wreaths with their frame protected by simple duct tape (which is not a professional look, even if it was hidden from the front!), I found my solution: Plasti-Dip.
Plasti-Dip is a plastic-type liquid that goes on thick and dries soft and cushy- it was developed for making those soft-dipped handles on tools. Poured into a shallow container, Plasti-Dip was the perfect material for coating the exposed ends of my wire horse wreath frames. Once all edges of the frames were dipped in this plastic coating, each had a soft, blunt, cushioned tip, safe for kids and adults to handle during wreath making, hanging up, or storing.
Making a Miniature Horse Halter for your Horse Head Wreath
One of the things that I think really ties together these horse head wreaths is the addition of a decorative horse halter. This iconic piece of traditional saddlery helps make the horse head shape even more defined. Adding a halter is especially helpful if you are using bushy evergreens boughs to make your wreath- as bushier boughs or garland can look a bit less tidy as they follow the shaped frame.
Although my original 2013 wreaths (pictured above) were giant – literally horse head sized – and I used a full-size horse halter to decorate them, when I began making these wreaths to sell (For the Christmas seasons of 2014 and 2015) I had to figure out how to scale down this design for my more typical front -door size wreaths. I began experimenting with various ways to make little halters for these wreaths.
I worked with multiple materials and attachment methods to make halters and bridles sized to scale for the wreaths. If you want to follow along and make a halter for your horse head wreath, here's how. You just need some red strap material and a few pieces of hardware!
The easiest and most realistic way to halter your wreath is by using a real horse halter in pony, miniature horse, or foal size. Using a real halter looks authentic and has the added benefit of providing an easy way to hang the wreath- but if you aren't interested in purchasing this specialty product just for a wreath, here's what you'll need:
Supplies to Make a Halter for your Wreath:
2 Large Metal O-ring's (available at any hardware store) You'll need to place one O ring on the nose and one under where the horse's eye would be. The first ring holds the noseband in place, and attaches it to the cheek piece, while the second o ring connects the cheek piece to the crown and the throat latch
A piece of hardware called a "halter square" is more authentic to use for the hardware at the nose, and I use one in these images, but as this piece of hardware can be difficult to locate in small sizes, I recommend using an O ring.
1 Long Red Strap (I have experimented with both burlap and faux red leather and I definitely recommend leather or vinyl for ease-of-use. In a pinch, you can use ribbon, although I find it to be too thin and flexible to look like real halter.
Glue vs Rivets: Halter Attachment Methods:
Depending on the material you- and the difference between working with thick and meltable vinyl vs thin and porous burlap or ribbon, the best attachment method will vary. I achieved the best, most realistic results by using fake vinyl leather and rivets. If you don't have a rivet setter, however, you can use various glues or even hand sew stitches to hold the decorative halter in place.
Step 1: Build a Noseband
To start, you'll need to string the pieces of strap or ribbon together with the O-rings in a traditional horse halter shape. Begin by making a T shape with the O-ring connecting three straps. Take two of those straps and wrap them around the nose of the horse head wreath. Take the third strap and pull it up towards where the horse's eye would be. It may be helpful to measure on your wreath and but attach the hardware on a separate, flat, surface.
Step 2. Connect Noseband to Halter Crown and Throat
A bit below and to the right of the horse's (invisible!) eye, attach a second O-ring to the cheek strap.
Step 3. Connect Crow and Tuck in Edges
Next, attached two more straps to the O-ring under the eye. Take one of the straps and pass it under the chin of the horse head wreath, where the head meets the neck, and attach it securely to the back of the wreath form. Attach a third strap to that O-ring and pull it up over the wreath horse's head just behind the ear – where a typical crown of a horse halter would rest.
Thanks for Reading!!!
I hope you can tell that I love DIY, researching the best affordable solutions for every-day problems opportunities and documenting / sharing solutions!🙌 Hawk-Hill.com is reader-supported.
☕ Hawk-Hill.com is reader-supported. If this article saved you time or money, please consider donating $1 to help me cover the cost of hosting this website OR If you appreciate this information and want to throw a "Thanks!" my way by buying me a coffee – I would Of Course appreciate it! :]
Reader Questions and Recommendations
Readers, do you have any favorite topics / posts? What would you like to read more about in the future? As I hope you can tell from this and other articles on my site, I really enjoy DIY / a good challenge, and I'm not afraid to roll up my sleeves to figure out a great, and hopefully simple 😁 solution. So please feel free to let me know in the comments below (or reach out via social media)!
Ok Really – I'll try to wrap this up now😂
Finally, if you'd like to continue to learn about interesting DIY options as well as how YOU can tackle creative new projects consider checking out the latest and most popular articles listed on the Hawk-Hill Home Page. I'm always trying to enjoy and write about the creative side of life so please don't be a stranger – check back often!😍
If you enjoyed this post you may also enjoy reading / perusing / devouring😊 one or all of these articles as well!