Products linked below have been researched and tested on this project. As an amazon associate, we earn from qualifying purchases.
I'm almost as excited to share this project with my readers as I was to complete it for myself! Creating this vintage train case turned marker holder has been my goal for a while, but it's taken some patience to find the perfect train case and marker holder that fit without wasting a lot of interior space.
What's a Train Case?
Sometimes called cosmetic cases or just vintage cases, train cases were the "carry on luggage" of the era of train travel (although they actually peaked in popularity in the 60's and 70's as precursors to the "kaboodles" cosmetic cases of the 80-90's). Today vintage train cases are sometimes found at thrift stores and flea markets. To get your pick of the litter, try sourcing train cases on Etsy, where you can be pickier about color, closure style, and a functional lock. Not only do train cases make great art supply storage that can be left out without feeling messy, train cases still a great way to store and transport makeup- especially if you have a bathroom with a lot of counter space but not a lot of storage.
How To Convert a Train Case into Stylish Art Supply Storage:
In this tutorial, I'll show you how to take the commercially manufactured marker holders that are intended for use in the not-so-attractive utilitarian art cases designed for crafters and scrapbookers and adapt these marker holders (that work well for paintbrushes, pens, pastels, tubes of watercolors, or any other tall skinny art supply) for use in a vintage cosmetic case.
When I was hunting for a way to store my markers I just couldn't find a commercially available art supply case that was functional and stylish. Utilitarian plastic boxes can work great if you've got an art closet or dedicated place to stow them, but in my downtown apartment space is at a premium and there's no good place to squirrel away art supplies that would still keep them handy to retrieve and use on a whim. My challenge: find a way to store my markers in plain sight that wouldn't stick out like a sore thumb in my 100-year-old apartment.
I created this marker storage purely for aesthetic reasons, but there's been a really fun surprise: storing my markers in this vintage tote in the middle of my living space has meant that my markers are almost always within arms-reach, and having them so close all the time has resulted in me using them to spontaneously create art much more often!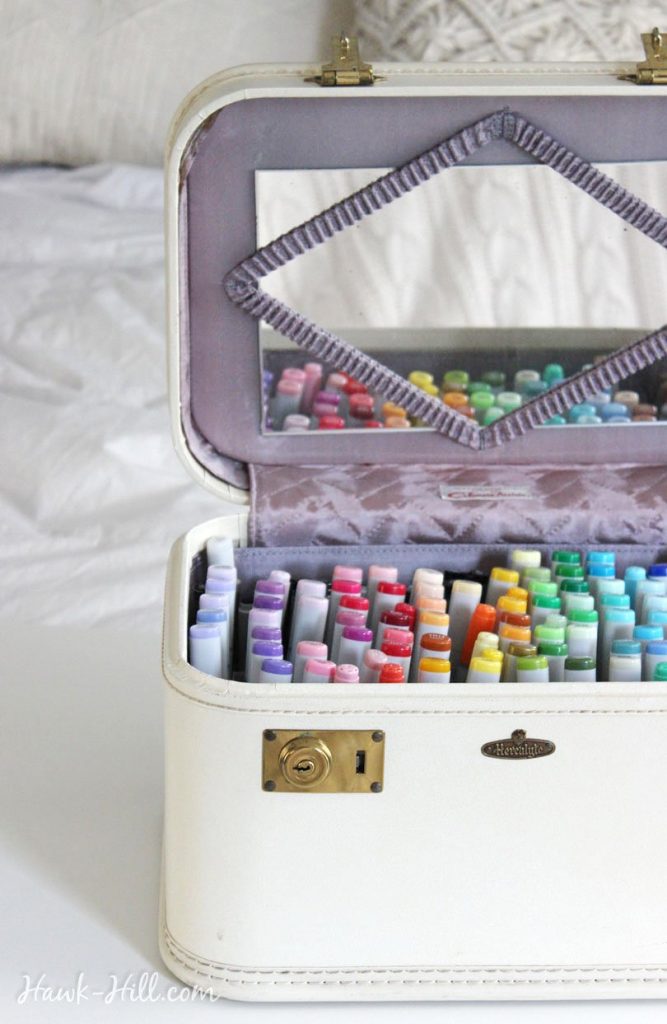 Supplies You'll Need:
Vintage Suitcase (found at garage sales, thrift stores, and Etsy)
Hot Glue Gun OR Epoxy Putty (for filling gaps as needed for stabilization)
I've always loved using vintage items for useful, utilitarian purposes, but my affinity for it really exploded after I moved to Seattle in 2015. Living in a 280 square foot apartment, there is simply no space for items that are "just decoration," so I'm becoming increasingly skilled at figuring out how to blend aesthetics and function, especially in vintage objects. Since the move, I've been adapting vintage cases to hold all kinds of odds and ends- including my entire store of art supplies.
With my entire collection of Copic Art Markers organized inside this case, I can display the case right next to my favorite chair in my apartment instead of having yet another box shoved in an overflowing closet. I like having my markers in my living space and ready to use on a whim- My creativity increases when supplies are within arm's reach.
I use illustration markers primarily for sketchnotes and graphic recording.
How To Convert a Vintage Cosmetic Case (or Suitcase) into Stylish Marker Storage:
1. Get marker trays or a plastic grid.
I used ArtBin Marker Trays.
In researching for this project, I read other marker storage tutorials that said the plastic grids for commercial fluorescent lights would work to store markers, but when I took a Copic Sketch Marker to Home Depot, those grids were too small to for it to slide in and out – and those panels were more than $20 each!
2. Get a vintage suitcase or "train case"
Traditionally called "train cases," vintage cosmetic cases are my favorite- find them at flea markets or thrift stores in the $10-$20 range, or more reliably at vintage shops or Etsy, for $25-$50.
You can use an old suitcase for this project, but you'll need to recalculate how many marker trays you need and potentially build a framework to support and secure multiple trays. The advantage of using a suitcase is that the markers are stored horizontally when the suitcase is closed and sitting upright- which is the manufacturer's recommendation for storing most art markers
Careful! Not all train cases are created equal! This was the first cosmetic case I tried to adapt for this purpose and it bombed:
The case above was too narrow to fit two marker grids side-by-side. My second case measures just a bit larger, and is able to accommodate the 8.2 x 1.5 x 9.5 in. size of the double-wide marker trays.
Skyway brand cases are my favorite since I attended a graduate school located in their former factory, but this dreamy Herculyte case in off-white was perfect and had a pricetag of $14 at a local Goodwill. I like the ivory finish in my apartment full of creams and whites.
Step 3. Add Marker Trays to Suitcase
Use the included clips to raise the tray off the bottom of the case. This will help the markers remain more upright. If the elevated trays aren't held stable by the sides of your case (it will depend on the width of your case) add a few dots of hot glue to the edge of the marker tray to help hold them in place, snug against the lining. (If the hot-glue doesn't hold, and you're positive of placement, you can use an epoxy paste to both fill and gaps and permanently secure the tray to the sides of the case.
Step 4: Fill Case with Markers & Enjoy
Placing your art supplies in a case or suitcase made for moving, really makes creativity on the go more possible (not to mention more stylish),
This vintage converted art case is one of my very favorite projects. It's so fun to always have my markers at hand, and this case makes them really, really easy to grab to take with me to art nights with friends or even to do illustration work at a cafe or on business trips.
In a standard train case, like the one I used. About 130 slots are open, with space at the back for about two dozen copic various ink refills. I don't have 130 copic markers, so I also have room in my case for multiliners (black inking pens with various nib sizes)

---
BONUS: Locking Train Cases for Securing your Art Supplies while Traveling:
Admittedly, unless you are planning to handcuff your case to your body, locking cases aren't the most secure way to lock up something valuable, BUT if you travel with your markers to art classes or scrapbooking events, it may be worth the investment in a locking case to help keep people honest. Plus, using a vintage suitcase to store your art supplies is unique and noticeable, and smart thieves won't walk off with anything distinctive or unique. (In 2008 I had a horse trailer stolen from the Kentucky Horse Park where, I learned too late, dozens of horse trailers are stolen each year. The officer who took the report told me to put custom decals on my next trailer because thieves never took trailers with decals or custom paint jobs because they drew more attention. Lesson learned.)
Vintage suitcases and traincases with functional locks & keys included are tough to find in vintage shops, but there's always a selection available on Etsy. Locking cases are usually a little more expensive, but may be worth the upgrade in convenience and peace of mind.

That's it! Once you've located a train case and marker trays this is a 20-minute project! Did you try it? I'd love to hear how yours turned out. Leave a comment below or pin-it to return to: