I tend to be either 100% inspired and need to jump into a project immediately to see my vision come to life right away, or I stew in uncertainty for months or years, unsure of how to address a design challenge. This very long room falls in the latter camp.
Hawk Hill's previous owner painted black and white stripes on three sides of the extra long room, and left in it a long, antique general-store cabinet. The cabinet was great for storage, and a unique piece in itself, but my attachment to it, paired with a mix of disgust and ambivalence about the striped walls, meant I felt "stuck" in this narrow and long room and so it was one of the last to be well attended to in regards to design.
Finally fed up with it, last thanksgiving I hosted the family meal and I convinced the men of the family to move the several-hundred-pound cabinet to the dining room- opening up the room to a total makeover.
I removed 90% off the clear glass window shelves that had covered the windows and tested several colors of Benjamin Moore grey: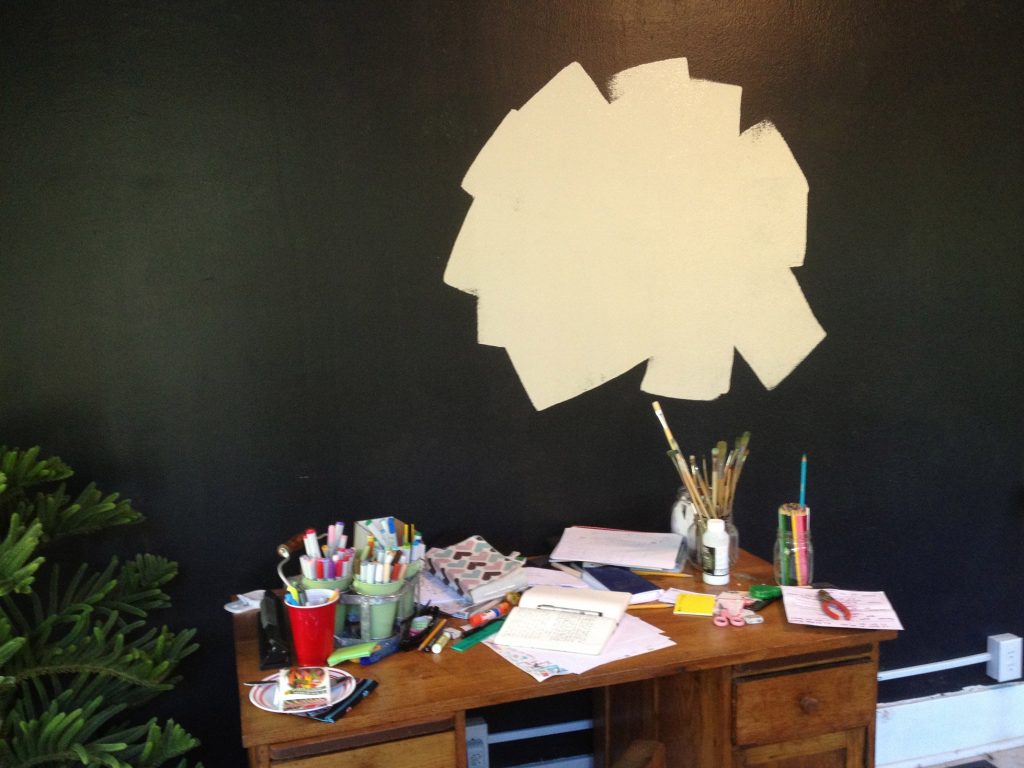 Ultimately I picked Benjamin Moore's Coventry Gray (HC-169) and love it! I had heard before how a busy room can "hide" a great view- but I never experienced this for myself until painting this busy room a soothing neutral color. Suddenly the view- which had been just a part of the busy-ness of the long striped wall- burst to life!
[This is where I give props to my man Benjamin Moore! I anticipated many coats to get good coverage over the black and white stripes, but two coats, with touch-ups to a few trouble spots, had the job done right!]
I will confess. I don't actually love houseplants. I'm not very good at remembering to water them, and I'm terrible at cleaning up after them- but I do enjoy mountains of ferns around my pond in the spring and summer, so I tolerate the houseplants the rest of the year. (The garden fountain ferns come in reside in this room in the winter) I actually love what they bring to this long but sunny room.
I added a white-slipcovered Ikea Extorp sofa down one wall (the ektorp sectional, actually, minus the ottoman) and paired my writing desk with a homemade counter-height sawhorse table created just for this project.
Products linked below have been researched and tested on this project. As an amazon associate, we earn from qualifying purchases.
I was in absolute love with Pottery Barn's $399 Swivel Desk Chair for about two years until I was driving through a tiny old town in Missouri one day and saw the elderly owner of a junk shop sitting out in front of his shop in this vintage Lawyer's Chair. I parked my car, walked over, and bought it out from under the store owner (literally!) for $40!