Products linked below have been researched and tested on this project. As an amazon associate, we earn from qualifying purchases.
When I lived in downtown Seattle my entire apartment building shared a total of two basement washers, two dryers, and zero elevators. This, combined with living on the third floor of a very high-ceiling 19th-century building made laundry day a dreaded task. Laundry day meant lugging laundry down several floors only to find the washroom busy and having to carry laundry back up- multiple times. When the dryer tore my favorite shirt to shreds, it was the final straw that sent me in pursuit of a portable washing machine for washing my laundry in an apartment.
To be honest, I didn't even know portable washing machines until I moved to Seattle. After a friend mentioned they'd recently bought one my casual interest piqued and I decided to order one immediately.
Read on to learn about the mistakes I made shopping for my first portable washing machine and the unit I eventually settled on.
How I learned about portable washing machines: With my original washer shopping motivated only by getting one at the lowest price, I ended up with an absolute garbage can of a washer. After replacing it with a much better model– with a bit higher price tag – I decided to write this article for other apartment, tiny home, or RV tenants researching portable washing machines.
First, Understanding how portable washing machines work:
Full-size washers are connected to existing plumbing and have a water inlet, where water enters, and a drain. Portable washing machines perform the same function but with temporary plumbing- inlet valves with nozzles that fit onto a garden hose or shower head (with shower head uncrewed- this is my preferred method of installation- read on for DIY) and a drain hose that can be placed into a sink, washtub, bathtub, or- if used outdoors- the ground.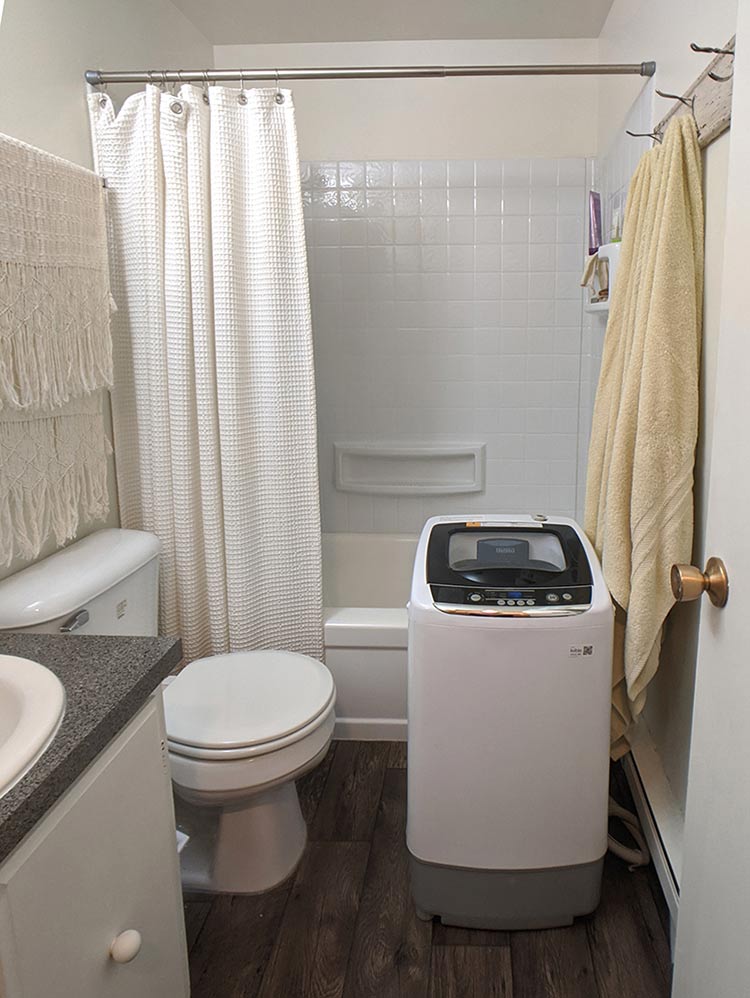 Things to look for when purchasing a portable washing machine:
After trying a few portable washing machines in my third-floor walk-up Seattle apartment, here's my advice on what to look for in a portable washing machine and why:
One drum or two?
Cheaper portable washing machines have side-by-side drums – one for washing and one for spinning the clothing dry. The user must manually lift heavy, dripping, water-saturated clothing from the washing drum into the spin drum. This is a very wet job as well as an extra task you'll need to attend to manually. Higher-end portable washing machines- such as Black & Decker's Portable Washing Machine combine this function into one drum, mimicking a typical wash cycle of a full-sized unit.
Before buying and trying a two drum washer, I didn't realize that two-drum washing machines do not clean clothes as well because clothing enters the "rinse cycle" while still fully saturated with dirty water. To get clothing really clean, the user must move clothes to the spin drum, then back to the wash drum for a second wash. Using a double-cycle like this to get my clothes clean quickly burned out the motor on the Pyle portable washer I first purchased.
Inlet valve or manual fill?
Some portable washing machines require a manual filled for each wash or rinse phase of a wash cycle. These machines are only slightly easier than manual handwashing, as they require attention throughout the cycle and, most likely, a willingness to get a little wet. Good machines will have an inlet valve to which you can screw on a hose so the machine will automatically fill with the right amount of water at each phase of the cycle.
Gravity drain or pump drain?
Having used several portable washing machines, the most important feature to me is a pump drain. Gravity drains empty very slowly and only work when the hose can be placed on a downward incline. Pump drains work quickly to empty water from a hose at any angle, allowing a wash cycle to be completed sooner.
Hacks for setting up a portable washing machine:
Follow your manufacturer's instructions for installation as a primary guide, but these two modifications may help improve the function and ease-of-use for your machine:
1. Upgrade your shower to a handheld showerhead, then use the same hose for filling your washing machine.
Guys, this is a game-changer, an absolute essential, and the first modification I make to the shower in any apartment I move into: Swapping from a wall mount shower head to a handheld is so cheap and literally just takes three minutes and no tools. The #1 handheld shower head on Amazon (which is the one pictured in this post) costs less than $25. Once you've upgraded to a handheld showerhead, the included hose makes it easy to connect to your washing machine in a convenient location whenever you need to wash a load of clothes in your washing machine.
You'll probably need to purchase an adapter to couple the showerhead hose and the washer inlet. To connect a standard handheld shower hose to the vast majority of portable washers (they tend to be threaded for garden hose connections), you'll need a 3/4″ MGH x 1/2″ MPT Adaptor (MGH = male garden hose, mpt = male pipe thread).
You can get a brass one at amazon via this link, or, if you are lucky, you might be able to find a plastic version at your local hardware store for a lower cost (Amazon doesn't seem to stock the plastic version, and big box home improvement stores almost definitely won't carry this unusual pipe adaptor in any material).
2. Experiment with drain hose placement
Your mileage may vary depending on your washer model, but my Black & Decker portable washing machine functions much better when the drain hose is placed up high.
While gravity-draining models require the hose to be placed lower than the unit for best results, some pump-drain style washers need to be placed up high in order to prevent draining prematurely due to excessive pressure on the valve.
For Drying Clothes:
TIP: Avoid purchasing a portable washing machine that claims to be a portable washer/dryer units. Although full-size, standard-installation washer/dryer combination machines exist and work pretty well, machines advertised as "portable washer dryer combos" online are usually very bad at both functions (and believe me, I tested a few and read hundreds of reviews). What online sellers claim are "portable washer/dryers" lack a tumble feature or a heating element, and the only "drying" mechanism is an extended spin cycle- which any good portable washing machine will offer.
If I get a portable washer do I also need a portable dryer?
Definitely not! It's uniquely North American to view a washer and dryer as an essential pairing. There are so many easy and energy-efficient ways to dry clothes without using a dryer (even in the winter) and it's SO much better for your clothes!
Here are the dryer methods that I've used and liked. The perfect one for you will depend on your living situation and what you have access to:
Retractable clothesline
A retractable clothesline is the simplest and also the most aesthetically appealing option for drying clothes without a washer. I love this one so much that I've uninstalled, moved with it, and reinstalled it 3 times in the last 10 years! With a section mounted on each side of a room, the retractable clothesline allows you to pull the necessary length out and attach it to its counterpart across the room, creating a clothesline when you need it and free space when you don't. Retractable clotheslines work best to dry clothes when installed in a bathroom with an exhaust fan.
Travel clothesline
You guys have heard me rave about Lewis N Clark products on my travel posts, but I love their travel clothesline because the tiny gaps in the stretchy braided cord allow it to be used without clothespins- just tuck a tiny corner of the fabric into a gap and the tension will hold it secure. Surprisingly strong suction cups keep this mounted on a variety of services- This model was my go-to when I spent three months in South America last year.
Pants hangers were very popular in decades past, and honestly all three of the pants hangers I own I purchased from vintage shops (you can get vintage ones like mine via these listings on Etsy). They are ideal for small locations and for maximizing drying space in a vertical direction. I also like that unlike many products FOR drying clothes- they aren't single-use. They're technically designed for hanging skirts but I love them for organizing scarves and accessories.
Another bonus of this style of drying rack is that the hanger is ideal for situations where you might need to dry clothing in an open window- clips keep garments secured even in a strong breeze.
Dryer rack
Somewhat common and perhaps something you already own for drying sweaters, dryer racks take up a lot of floorspace when in use but have only a tiny footprint when folded up. They're great for drying an entire load quickly. Because they're portable, they can be used inside or outside.
How to avoid humidity when air drying clothes indoors.
The trick to drying clothes fresh from your portable washing machine without creating a swamp-like microclimate is ventilation. Consider how air is entering and exiting the room where you are drying clothing.
Keep humidity down by 1. exchanging wet air for dry by using a fan + open window or an exhaust fan, or 2. actively dehumidify the air by using a heater or a dehumidifier. Both strategies work well to keep your living space comfortable while drying clothes indoors. Here are a few tips:
Manually adjust your wash cycle to force the machine to spin the load as long as the settings will allow.
If using in a bathroom, turn on the exhaust fan
If air outside is a tolerable temperature, open windows.
Set up a fan blowing on the wet clothes
Run a space heater in the area (heaters dehumidify air), a safe distance from flammable materials.
If you have a small bathroom, the combination of a space heater and a strong fan can dry clothes in just a bit more time than a conventional clothes dryer takes.
Need a reminder for later in your project? Pin the image below: