Last winter in Seattle was colder and wetter than most, and with my social media feeds filling with the comfort-loving aesthetic of Hygge, I decided I needed more cozy throws in my life. Unsatisfied with cheap throws and fleece blankets, I wanted a very substantial blankie- and I found it in an unlikely place.
Bainbridge Island is an island located 30 minutes by ferry from downtown Seattle. It's the home of many of Seattle's elite and it's a popular day trip from Seattle for folks who like to recreationally ride the Washington Ferry System (like yours truly). When I cruise over to Bainbridge Island, I always poke my head in the thrift stores. It turns out, what the folks on Bainbridge Island want to toss out are often things I really want! Unironically, even the thrift store prices on Bainbridge are usually out of my budget, but last year when I went I found this Pottery Barn fleece and cable knit throw that was perfect for my apartment and just within my budget.
The following section may contain affiliate links. As an Amazon Associate, we earn from qualifying purchases.
I found Pottery Barn's $130 "Cozy Cableknit Throw" in Ivory at that island thrift store (but Amazon has a version of this blanket* if you're crushing on mine). Featuring a chunky knit pattern on one side and ultra-soft plush fleece on the opposite side, this quickly became my favorite blanket to curl up under for winter-term grad school reading.
To my disappointment, after just one season my beloved fur blanket began to clump up like old grimy fleece. I was disappointed and began using my blanket less and less. I was still in love with it but worried that if I kept using it regularly, the fleece would deteriorate into a tired cheap-looking blanket instead of the luxurious blanket I loved.
While my blanket was stored for the summer season, I had a conversation with an older woman on how to care for sheepskin rugs. She told me that regular brushing with a carding brush would break up clumps and keep sheepskin fleece rugs looking new, so I decided to apply this same cleaning method to my fleece blanket, in hopes I could return the clumping synthetic fleece to soft fleece pile again.
First, I needed to locate a carding brush. While you can pick up a basic fiber carding comb* for around $12, with a little research, I learned that carding brushes and slicker style dog brushes are very similar and recently Burt's Bee's started making this charming little honeycomb-shaped wood and wire brush* shown below- bonus? It's way cheaper than the carding comb.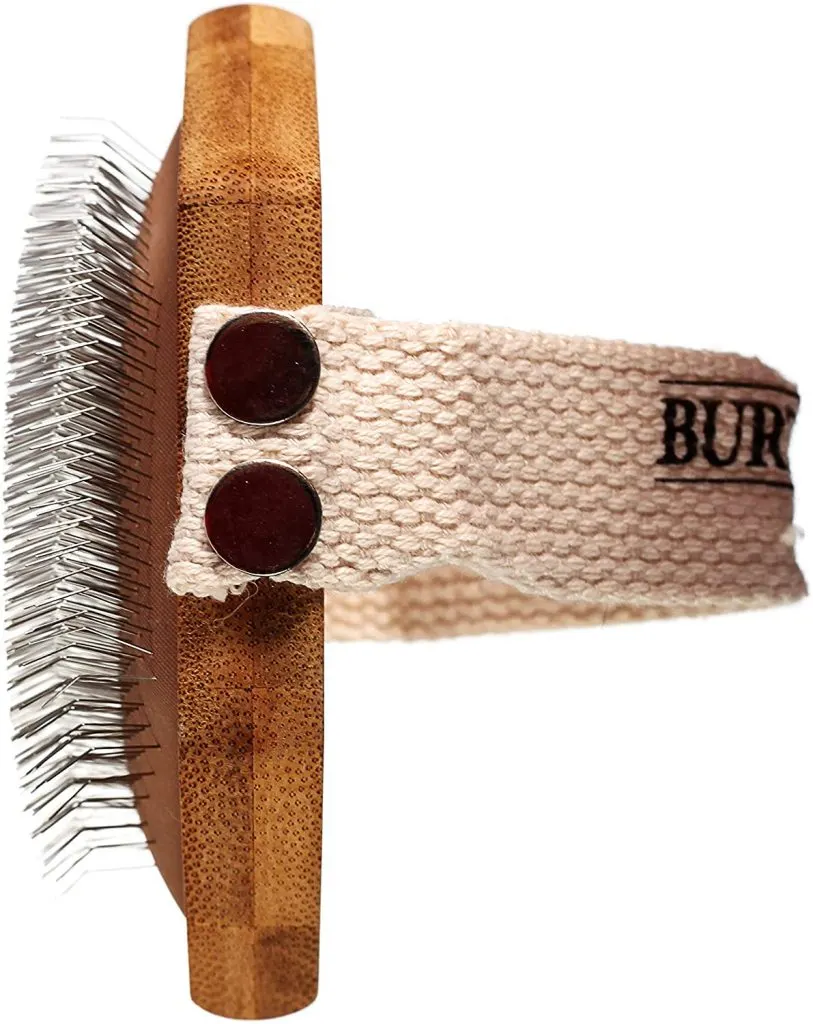 Cleaning your faux sheepskin fleece and returning clumped fleece to fluffy pile isn't hard! It does take a bit of technique, though. In the photos below I'm using a basic dog grooming slicker brush I picked up at a discount store- follow the same instructions if using a carding brush or this wood slicker:
How to De-Clump Fleece:
To begin, place the blanket or fleece garment over your lap, smoothed with no wrinkles, and the tool in your dominant hand.
Grasp the edge of the blanket, brace the fabric against your knee, and with quick sharp strokes, begin scraping the carding brush over the fibers. The clumped fibers will tug and try to trap your brush, so the trick is to brush briskly, firmly, and not too deep at first.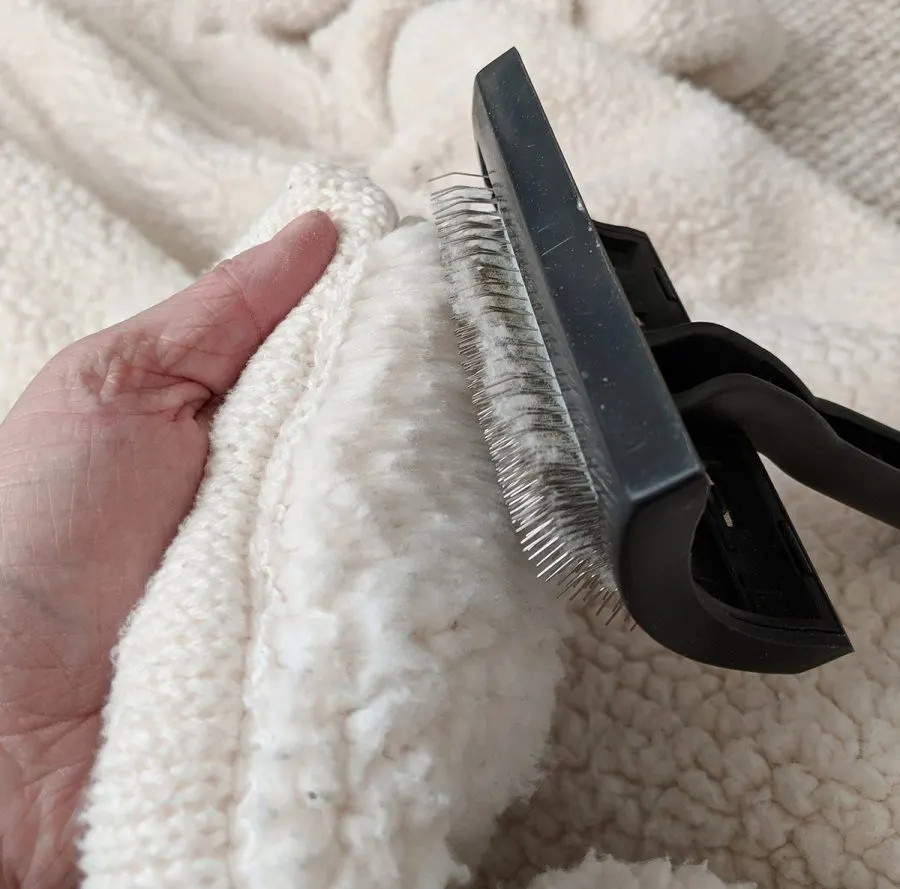 It's easy to get the wire brush tangled, so you'll need to experiment with the right amount of pressure to get the wire tines just far enough into the fleece to comb without catching. As the fleece clumps break up you can press the brush a little deeper into your fleece.
You'll need to repeat the action 6-8 times on one area, especially if your blanket has been allowed to clump significantly, as mine had. Pick a good Netflix, fix a hot drink, and settle in for the process of combing the full blanket.
I didn't expect to also clean my blanket in this process, but was pleased to find that the brushing process picked up all the lint, thread, and fibers that the fleece had consumed into its tangles.
Loose fibers and – perhaps most satisfyingly – the debris caught in the clumps- will be trapped in your brush. Peel the loose fibers off your brush once in a while and keep combing until your blanket looks refreshed and clean.
If your fleece is very tangled or not tightly set in the base fabric you may find that you have many pulled fibers after "grooming" your faux fur. This is expected and won't harm your blanket, but if you want to neaten the fleece when you are done you can groom the surface of the fleece with scissors. Trim any fibers sticking up past the depth of the pile until your blanket is tidy, furry, and uniform once again.
Does this Method work on Real Sheepskin?
Yes! In 2019 I had the opportunity to spend several months in Patagonian Chile & Argentina. Interior design there often echoed the vast and stark landscape of Patagonia- where spaces often featured hard and angular materials. What softened this design was sheepskin- sheepskin everywhere! I fell in love with the look and feel of sheepskin pelts on floors, chairs, sofas, and even beds. When I came home, I quickly built a collection of sheepskins that soften and add comfort to the unpadded, straight-backed chairs I prefer for working. Soon after, my sheepskin became matted from daily use and I began, as a matter of habit, regularly combing my sheepskin once or twice a month.
As someone who, previously, once threw away a nearly new sheepskin rug just because it got matted, this was a game-changer! Turns out, with 5 minutes of combing once or twice a month, the fleece of both genuine and synthetic sheepskin stays soft and fluffy indefinitely. It even works to clean ugg boots and other sheepskin lined goods.
Thanks for Reading!!!
I hope you can tell that I love DIY, researching the best affordable solutions for every-day problems opportunities and documenting / sharing solutions!🙌 Hawk-Hill.com is reader-supported.
☕ Hawk-Hill.com is reader-supported. If this article saved you time or money, please consider donating $1 to help me cover the cost of hosting this website OR If you appreciate this information and want to throw a "Thanks!" my way by buying me a coffee – I would Of Course appreciate it! :]
Reader Questions and Recommendations
Readers, do you have any favorite topics / posts? What would you like to read more about in the future? As I hope you can tell from this and other articles on my site, I really enjoy DIY / a good challenge, and I'm not afraid to roll up my sleeves to figure out a great, and hopefully simple 😁 solution. So please feel free to let me know in the comments below (or reach out via social media)!
Ok Really – I'll try to wrap this up now😂
Finally, if you'd like to continue to learn about interesting DIY options as well as how YOU can tackle creative new projects consider checking out the latest and most popular articles listed on the Hawk-Hill Home Page. I'm always trying to enjoy and write about the creative side of life so please don't be a stranger – check back often!😍
If you enjoyed this post you may also enjoy reading / perusing / devouring😊 one or all of these articles as well!