Within a week of signing the lease on my tiny studio apartment in Seattle, I had one of my favorite vintage chandeliers shipped to me from Missouri. Determined my new life had to have at least one chandelier, I converted it from a light fixture to a lamp with a plug and set about finding a spot to mount it… with no success.
My stud finder proved useless and when I did locate a joist to anchor a ceiling hook to I didn't have the tools in my tiny apartment to make it work. Update your apartment light fixture 💡🙌
Fast forward six months- six months of a sad, dark chandelier gathering dust on a shelf in my apartment- and the offer of a friend to bring the tools needed to hang this chandelier in its glory.
The following section may contain affiliate links. As an Amazon Associate, we earn from qualifying purchases.
Before I jump in…2 Seconds on WHY Great Interior Lighting is Essential
I can't stress this enough – 💡Good interior lighting can enhance the comfort and esthetics of a room by providing proper illumination for tasks, creating a warm and inviting atmosphere, and highlighting decorative features. A well-lit room can also improve mood, reduce eye strain, and create a sense of spaciousness. By selecting the right lighting fixtures, light sources, and their placement, you can create an aesthetically pleasing and functional interior space.
How to Hang a Chandelier in Rental Housing:
Rental contracts usually stipulate no damage to walls or ceilings, and that electrical light fixtures not be removed (assuming you could, of course, get access to a breaker box to change a fixture safely in the first place) To handle my lighting situation and hang a chandelier in my rental apartment without risking my deposit, I took these steps:
1. Acquire a Chandelier you LOVE 🥰
When it comes to lighting fixtures, I have always been drawn to the timeless elegance and unparalleled charm of vintage chandeliers. There's just something about their intricate design and stunning craftsmanship that brings a touch of luxury and sophistication to any space. That's why I have spent quite some time scouring Etsy's Vintage listings for the perfect piece that would complement the aesthetics of my home.
2. Convert Chandelier ⚒️
Change a hard wired (typically need an electrician for this type of installation) to a plug-in lamp style – (see my entire article about that here) This will open your options up to what the different types and styles of chandeliers are you can buy and potentially install. Also, it's surprisingly easy to adjust / change the electrical source style of a light, so just buy what you like and I'm sure you'll be able to make it work!
3. Install a STRONG ceiling hook 💪
Anchor into your ceiling. This hook can hold up to 35lbs in drywall without requiring you to locate a joist. (More than enough for the vast majority of chandeliers- my heavy metal chandelier weighed 11 lbs including dozens of crystal baubles!) Because my ceiling is plaster we went ahead and used a stud finder to locate a ceiling joist in order to avoid stressing the brittle plaster. But take courage that you CAN do this…it's something that you'll look at when you're don and be so glad you did and very likely say "well, that was definitely not that hard", which is my favorite feeling after pulling off a great DIY project :]
4. Hang the chandelier from the hook 🪂
Using the now corded chandelier and ceiling hook, I hung the chandelier from the ceiling and swagged the cord over to the wall. By plugging the now-corded chandelier into a remote outlet with wireless switch, I was able to make this chandelier as easy to use as an overhead light. (Read more about how to set up the remote switch in this blog post on lighting a living room with no overhead light.)
TIP: When placing the wireless switch that controls the chandelier on your wall, try attaching with Command Picture Hanging Strips (the re positionable vecro-type).This way, when you're in the mood you can take the switch off the wall and use it as a remote control for the light.
5. Cover Your Tracks 👍
Grab some wood filler so you have it on hand when you move. Ceilings are (almost) always flat white, so when you move you should be able to unscrew your ceiling hook and fill the small hole left behind with wood filler to restore your ceiling to perfection – keeping your landlord happy and your deposit unscathed. (Wood-filler is also handy to have on hand for filling the pre-drilled holes in pre-fab bookcases, making them look more like custom built-ins)
Quick Video Break for some Inspirational Lighting Ideas
As mentioned earlier, lighting can significantly enhance or detract from a room's ambiance. It has the power to transform a drab room into an inviting space, or conversely, make a fantastic room feel dull and uninspiring. To achieve the desired effect, consider the character of the room you want to update and the tone or style you want to create. Watch the short video below for some beautiful room inspiration.
To choose the right lighting for your home, it's also essential to consider the activities that take place in each room. Think about the tasks that occur most frequently and make sure the lighting you install enhances those experiences. This approach will help you to select lighting that is functional, practical, and stylish. 😊
If you really HATE your rental grade installed overhead light, check out my article on how I created a shade to cover my ugly rental overhead light.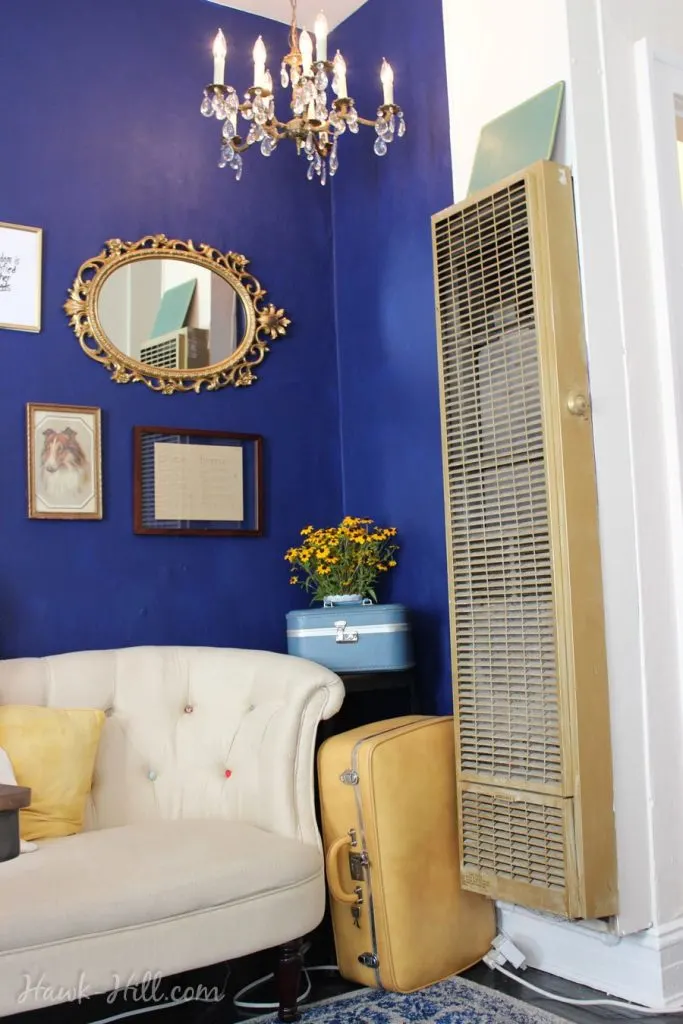 Other Chandelier Related Posts:
There are several chandelier related posts on the Hawk-hill site, so feel free to hop over to the home page and check out a few (if needed use the search bar over on the right-hand side of the page!)
Thanks for Reading!!!
I hope you can tell that I love DIY, researching the best affordable solutions for every-day problems opportunities and documenting / sharing solutions!🙌 Hawk-Hill.com is reader-supported.
☕ Hawk-Hill.com is reader-supported. If this article saved you time or money, please consider donating $1 to help me cover the cost of hosting this website OR If you appreciate this information and want to throw a "Thanks!" my way by buying me a coffee – I would Of Course appreciate it! :]
Reader Questions and Recommendations
Readers, do you have any favorite topics / posts? What would you like to read more about in the future? As I hope you can tell from this and other articles on my site, I really enjoy DIY / a good challenge, and I'm not afraid to roll up my sleeves to figure out a great, and hopefully simple 😁 solution. So please feel free to let me know in the comments below (or reach out via social media)!
Ok Really – I'll try to wrap this up now😂
Finally, if you'd like to continue to learn about interesting DIY options as well as how YOU can tackle creative new projects consider checking out the latest and most popular articles listed on the Hawk-Hill Home Page. I'm always trying to enjoy and write about the creative side of life so please don't be a stranger – check back often!😍
If you enjoyed this post you may also enjoy reading / perusing / devouring😊 one or all of these articles as well!