Art, furniture, and decor define much of the style of our home, but there's one decorating challenge that haunts renters even when the furniture and decor are perfectly on point: dated or cheap-looking overhead lights.
During grad school in Seattle, I lived in a tiny studio apartment in an old brick building. It had high ceilings, hardwood floors, a clawfoot bathtub, and easy access to the waterfront. It was my dream apartment- with the exception of the ugly rental apartment lights. The builder-grade ceiling lights stood out like a sore thumb.
Although I imagine few guests noticed, the antique gold highlights in my decorating scheme felt dissonant next to the polished brass of the light fixture. Thankfully, I had an idea for how to conceal the ugly light fixture and make my apartment's ceiling light stylish without having to remove or dismantle the light.
Today I'm demonstrating step by step how I covered my rental apartment's lighting with a drum shade modified to provide full coverage. By doing so, I transform an ugly rental's lighting into a sleek modern fixture with NO tools required.
The shade also softens the light in the room, and works well combined with lamps or, my personal go-to, a chandelier converted to a plug in lamp attached to the ceiling, cord swagged, and connected to a smart switch.
Supplies Needed to Upgrade Rental Lighting:
The following section may contain affiliate links. As an Amazon Associate, we earn from qualifying purchases.
drum shade, larger than the existing light fixture.
1 roll of parchment paper – as wide as your shade's smaller opening (you may have to get extra wide parchment paper)
hot glue & glue gun
floral wire (I used standard green, but I've since discovered white floral wire, which would be better for this project.)
Something sharp- like an awl, large gauge sewing needle, or even a drill and small drill bit
(optional) Fray Check to prevent unraveling.
TIP: If you've got a similar light fixture with a screwed-on cap in the center, (aka "boob lights," as my home-flipper friend calls them) this tutorial is even easier! With the right shallow drum shade and/or a visit to the hardware store to source the right combination of bolts and coupling nuts to adapt the center screw to accommodate an alternate height shade, you can skip the floral wire and do only the parchment cover shown in this tutorial.
Step by Step Instructions for Upgrading your Ceiling Light with a Drum Shade:
I demonstrate step by step how I cover cheap builder's grade rental apartment lighting with a drum shade modified to provide full coverage and transform an ugly rental's ceiling lighting into a sleek modern fixture with NO tools required.
Total time: 20 minutes
Trace Drum Shade
The first step is to trace the outline of the smaller opening of your drum shade onto parchment paper (that is, the "top" of the shade if it was placed on a floor lamp, but what will actually be the bottom when mounted on the ceiling).
Cut Out Paper Template
Next, use scissors to carefully cut a circle, about 1/2″ larger than the circle you just drew. This extra paper will be how we attach the paper to the inside of the shade.
Cut Notches
Next, lay the paper on the top of your shade. Mark where the metal supports for the shade are. Remove the excess overhang in these spots, being careful not to cut past the pencil line. This paper cover will need to conceal the lamp's metal supports.
Fold Paper Edges
Hand fold the edges of your paper inward- working along the pencil line, folding any excess upward, as shown below. Note the three notches I added to so the paper would fit smoothly around the shade's metal structure.
Smooth and Check Fit
Lay the paper on top of your shade. Does it fit? It should fit smoothly. If it's too big or too small, you might need to start over. If it's just right, proceed.
Some crinkles are ok. Most will smooth out during the gluing process and any remaining wrinkles after the last step will not be visible when lit.
Pierce Holes in your Drum Shade
Now, take a look at your light fixture. Most flush fixtures have 3 screws on the sides, designed to hold the glass globe cover in place.
Puncture three small holes in the shade near the rim of the base of the shade. We'll use these to attach the shade to the ceiling.
We'll use these screws as anchor points to attach the shade. If your light doesn't have side screws or something to attach to, you may need to get creative (like attaching clear command hooks to the ceiling around the light, for example.) My light fixture had 3 screws equally spaced, so my next step was to pierce three holes in my drum shade, equally spaced.
Prevent Shade From Fraying
Depending on how sturdy your shade is, you might want to treat the fabric around the holes with Fray Check to prevent unraveling. I thought I could use a glue I had on hand, for the same effect but ended up noticeably darkening my shade in that spot, (as you can see at the bottom of the image below) so learn from my mistake and use fraycheck or leave untreated.
Place Paper in Lamp Shade
Now that the holes are punched, we'll do the most delicate part: gluing the paper cover onto the drum shade. Heat up your glue gun, locate a stable place to work, and put on gloves to protect your hands from the glue. Be extra, extra careful with the hot glue in this step- you may be used to using hot glue to glue denser materials. Unlike thicker materials, the ultra-thin parchment paper offers no insulation, and touching the parchment on the opposite side of the glue will be as hot as touching the glue itself!
Place the paper on top of the shade, tuck the folded excess into the shade, then flip the lampshade over while holding the paper in place. Once upside down, you can go around the rim of the lampshade gluing the paper in place as shown.
Glue Paper in Place
The easiest gluing method is to pull a section of paper back, add glue directly to the interior of the shade, then replace the paper. Use a gloved hand to gently press the paper into place- being sure not to touch the delicate paper directly touching hot glue.
Attach Wire to Drum Shade
Almost ready to hang! Before you climb up the ladder, go ahead and place sections of floral wire in the holes you punched- leaving plenty of excess for attachment to screws.
Attach Shade over Existing Ceiling Light
Climb your ladder and carefully attach the shade to the light. I attached one side very loosely just to hold it in place, then proceeded around the fixture securing and adjusting wiring to the other two screws, before returning to the first to fix it.
In this photo, my friend is helping me reattach after taking the shade down to change a lightbulb.
Secure and Hide Wires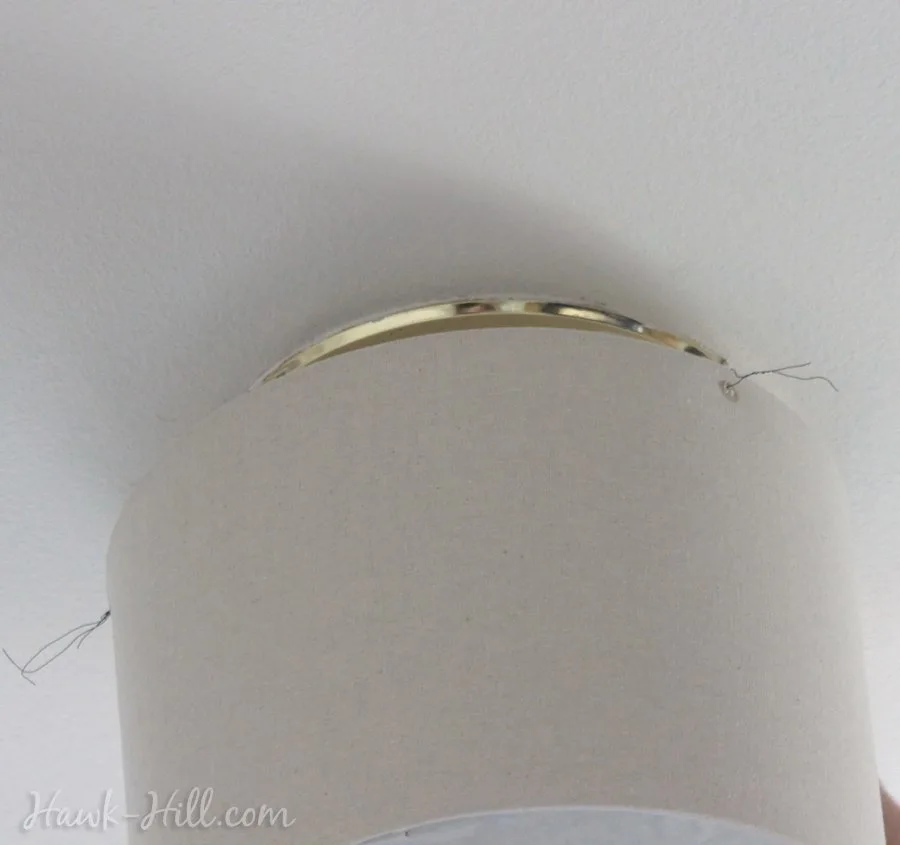 Secure and tighten tires to cover light completely. (Use white floral wire for a discrete look)
Enjoy a Softer, Stylish Lighting Upgrade
Stand back and enjoy softer, diffused lighting from an elegant modern ceiling light fixture!
As you can see in this photo, the soft light coming from the pretty drum shade totally transforms the room, hiding the ugly light fixture and softening the lighting.
Cleaning this Drum Shade Ceiling Light Cover
When I lived in this apartment, I kept my windows open almost 24/7 to enjoy the breeze coming in from the Puget Sound. Unfortunately, this also meant sometimes having to deal with bugs buzzing in, seeking light, and, leaving their sad little bodies inside the light fixture. About once per year, I removed my drum shade cover from the ceiling light, dumped any collected dust or debris, and cleaned the shade. Lampshades can be a little tricky to clean, but I recently wrote a whole post outlining the method I use to gently clean and refresh lamp shades.
Thanks for Reading!!!
I hope you can tell that I love DIY, researching the best affordable solutions for every-day problems opportunities and documenting / sharing solutions!🙌 Hawk-Hill.com is reader-supported.
☕ Hawk-Hill.com is reader-supported. If this article saved you time or money, please consider donating $1 to help me cover the cost of hosting this website OR If you appreciate this information and want to throw a "Thanks!" my way by buying me a coffee – I would Of Course appreciate it! :]
Reader Questions and Recommendations
Readers, do you have any favorite topics / posts? What would you like to read more about in the future? As I hope you can tell from this and other articles on my site, I really enjoy DIY / a good challenge, and I'm not afraid to roll up my sleeves to figure out a great, and hopefully simple 😁 solution. So please feel free to let me know in the comments below (or reach out via social media)!
Ok Really – I'll try to wrap this up now😂
Finally, if you'd like to continue to learn about interesting DIY options as well as how YOU can tackle creative new projects consider checking out the latest and most popular articles listed on the Hawk-Hill Home Page. I'm always trying to enjoy and write about the creative side of life so please don't be a stranger – check back often!😍
If you enjoyed this post you may also enjoy reading / perusing / devouring😊 one or all of these articles as well!